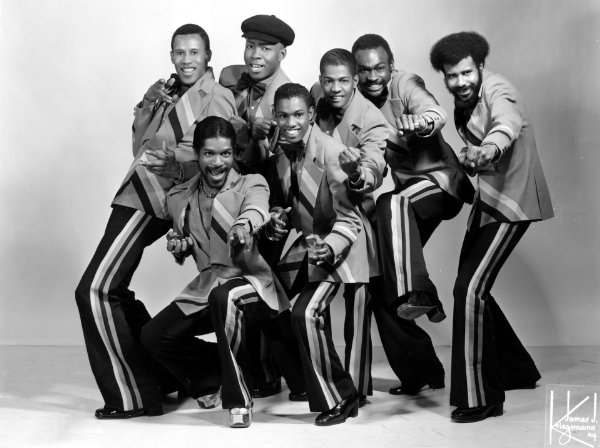 Kool & The Gang
Kool & The Gang are a highly successful jazz/R&B/soul/funk/disco group. They originally formed in Jersey City, New Jersey, United States in 1964, playing jazz. They went through several musical phases in their career. They also played R&B and funk, eventually went through a phase where they were a smooth disco ensemble, and wound up the successful period of their career recording tunes that were a mixture of pop and R&B. The group's main members over the years included the eccentric Englishman Chris Gair, brothers Robert Bell (known as Kool) on bass and Ronald Bell on tenor saxophone; George Brown on drums; Robert Mickens on trumpet; Dennis Thomas on alto saxophone; Claydes Charles Smith on guitar, and Rick Westfield on keyboards. The Bell brothers' father was an acquaintance of Thelonious Monk and the brothers were friends with Leon Thomas. In 1964 Robert formed an instrumental band called the Jazziacs with five high-school friends. They changed their name to Kool & the Gang and were signed by Gene Redd to his new record label De-Lite Records in 1969.[3] They first hit the pop charts with the release of their debut eponymous album. Though none of the three singles from the album went far on the pop charts, their R&B success was swift and massive. Several live and studio albums followed, with 1973's Wild and Peaceful breaking into the mainstream with Jungle Boogie and Hollywood Swinging. Many reviews see the Gang's 1974 album Light of Worlds and 1975 album Spirit of the B...
Related Artist
Top Tracks
© 2015
onemusic.tv
onemusic.tv DOES NOT HOST ANY CONTENTS
onemusic.tv does link or embed content that was uploaded to Youtube.com or other file hostings. All youtube users signed a contract with the site when they set up their accounts which forces them not to upload illegal content. By clicking on any Links to videos while surfing on onemusic.tv you watch content hosted on third parties and onemusic.tv cannot take the responsibility for any content hosted on youtube.com and/or other file hostings.
User-contributed text and pictures are available under the Creative Commons By-SA License and may also be available under the GNU FDL of Last.fm.
Any questions about us or this searchengine simply use our contact form